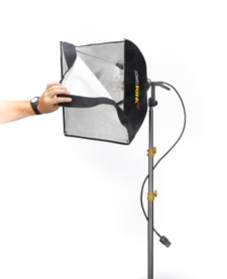 Rifa eX 44 is the smallest member of the Lowel Rifa family. Its 16" diffusion screen and 21" collapsed length make it ideal for compact kit run & gun lighting. Its abilities are enhanced further by the Rifa eXchange System accessory lampheads.
Ideal for lighting closeup interviews, small area tabletop shoots, webcasting & more.
Dedicated softlight fixture with removable lamphead centered in collapsible silver aluminized high temperature Nomex® housing.
Max. 300w lamp with AC, with 105, 125, 200 & 250w options, using supplied TH-X300 tungsten-halogen head.
Accessory quick exchange lampheads allow use of high CRI 27w daylight fluorescent lamps.
State of the art woven glass fabric front diffuser offers exceptional heat resistance. Front diffuser must always be used.