Minolta SRT101 w/58mm f1.4 Lens
Minolta SRT101 w/58mm f1.4 Lens
Good Enough for Annie Liebovitz, Just Sayin' - $185.00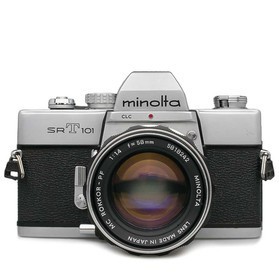 This Minolta SRT-101 is in nearly mint condition. It has spent it's whole life in it's original Minolta case. Nearly free of blemishes and mechanically tip-top. Includes the very sharp Minolta 58mm MC Rokkor PF f1.4 MC-II lens.

All of our cameras have been thoroughly inspected and cleaned and include a 30 day guarantee.
This item is available for purchase for $185.00.