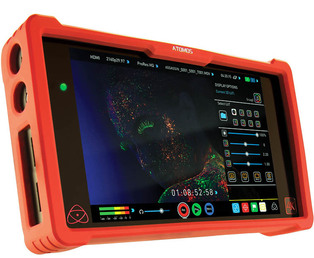 Let your HD or 4K camera run at a full sprint! In-camera memory cards and 3" screens can be a little sad and pitiful when you've got a real project to shoot. The Ninja Assassin let's you record in ProRes and other RAW video formats, piss off SD and CF memory cards! Let the Atomos Ninja Assassin unleash your cameras full potential.
FEATURES:

HDMI OUTPUT - Record professional footage directly from the camera's sensor and ouput via HDMI lossless quality to Apple ProRes or Avid DNxHR codecs.
MONITOR & AUDIO RECORDING - Record up to 8 channels of audio over HDMI or analog audio over the additional 3.5mm input allows connectivity from analog mixers or microphones locked frame accurately to your video.
BYPASS MPEG LIMITATIONS - Bypass the internal MPEG / h.264 compression from the camera increasing color accuracy (with 4:2:2 color sampling) and color resolution with 10-bit color (1 Billion Colors). The edit ready Apple ProRes or AVID DNxHR video files created by Ninja Assassin are visually lossless with each frame being captured in full resolution (I frame recording) just like film.
4K RECORDING AT HD PRICES - Harness the power of 2.5" computer storage media, making 4K-UHD the same cost as affordable HD today. Record 3 hours of 4K ProRes 422 HQ @ 25 fps on a 1TB SSD, or 10 hours in HD.
PLAYBACK - 4K video easily downscales for playback on HD monitors or televisons. Create playlists of selected clips for client review.