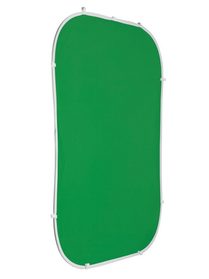 Photoflex's FlexDrop2 is a quick and lightweight portable solution for blue screen or green screen chroma key work either on location or in the studio.
Chroma key is a technique for mixing two images or frames together, in which a color (or a small color range) from one image is removed (or made transparent), revealing another image behind it. This technique is also referred to as color keying, color-separation overlay or green screen, and blue screen. Common examples of this are a typical weather forecast broadcast where the presenter appears to be standing in front of a map, but in reality is standing in front of a blue or green background.
After years of extensive experience and research with chroma key lighting as well as collaboration with leading industry professionals, Photoflex developed the FlexDrop2 to meet the needs of those in the entertainment [digital photo, video & film] industry. This portable accessory is easy to setup and reversible offering both bluescreen and greenscreen fabrics in one package.
Dimensions: Open 5'x7′ (1.5×2.1m); Collapsed 32″ round (.81m)
Weight: 2.8lbs (1.27kg)