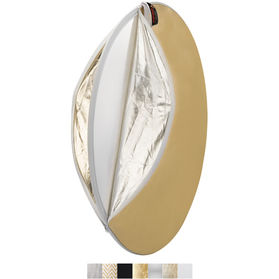 White: Use to reflect light with natural-looking results.
Silver: Use to increase specular highlights adding more contrast to your image.
32-inch reflector is ideal for shooting head-and-shoulder portraits, pets. Folds to almost 1/3 its open size. Easily stores in a backpack.
Guaranteed to be flat to ensure a smooth, even reflection. All-metallic foil surfaces are double-laminated for longevity and maximum reflection. Double-riveted frame lets the LiteDisc stand up to tough abuse while maintaining its shape and flexibility.