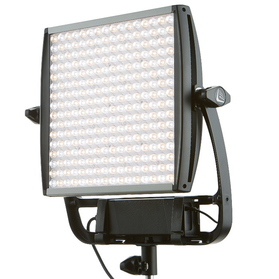 The Litepanels Astra 6x Bi-Color LED Panel is a great example of how far LED technology has come.
With excellent color rendition the Bi-Color (2800-6000k) has a high CRI of 95-98.
The LED panel has fine tuned Total Internal Reflection optics resulting in a long throw and wider spread. This gives it up to 50% more powerful than the original 1x1.
Astras 6x is also fully dimmable from 0%-100% allowing you to dial in the correct ratios or your environment and mood. This unit can provide the perfect Key, Fill or Backlight.
Our astra also comes with an optional V Mount battery pack if you need to be a bit more mobile.
6X brighter than the original 1x1 50% brighter than the previous Astra


Offers up to 614 Footcandles at 5 feet/1.5m

Intelligent thermal management system passive or active cooling

Max power draw 105W

CRI/TLCI:

• Daylight 95 / Tungsten 98