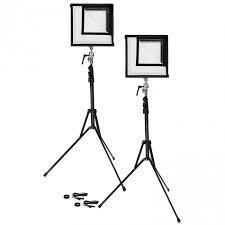 Have you been called to shoot a last minute interview in Connecticut?
Need to keep a small foot print?
Oh it's raining outside?
You need to tape a light to the ceiling?
The Westcott Flex Bi-Color Mat 2 Light Cine Travel Kit is for you!
Get to know these lights:
- The flex lights are .25" thick allowing you to place the lights in many different nooks and crannies where other lights cannot fit. Furthermore the wire framework of the flex lights allows you to maintain its shape once formed.
- Splashproof rating of IP64 essentially means that you can shoot in the rain without any issues.
- Bi-Color (2800-6000K) and fully disable (0%-100%) so you can dial in those ratios and color temp to match whatever environment you're shooting in.
- Kit comes with all tools needed to convert each unit into a softbox.
Flexible, Moldable LED Panel
Bi-Color 2800-6000K Color Temperature
Beam Angle: 140-360°
CRI: 95-98
Splash and Dustproof, IP 64 Rating
Thin Profile Measures 0.25" Thick
External Dimmer, 0-100% Control
Compatible with Scrim Jim Cine Frames