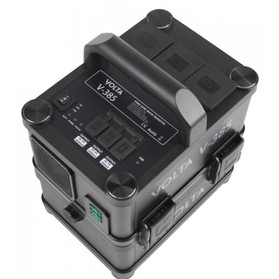 Volta V-385 Power Inverter Specifications
Continuous Output 750W (At 800W, it can work for only 3 minutes continuously.)
Peak Power 1400W
Input Voltage Range11-15.5V
Output Voltage/Frequency AC 110V/60Hz
Output Waveform Pure Sine Wave High Harmonic Distortion< 3%
No-Load Current Consumption Normal mode:0.25A
Flash mode: 0.9A
Conversion Efficiency 91%
Low-Voltage Alarm Yes
Low-Voltage Shutdown Yes
Storage Temperature Range-30 Degree C to 70 Degree
COperating Temperature Range-10 Degree C to 45 Degree C
Battery Type LiFe PO4
Nominal Battery Capacity 26 Ah (14.8V)
Charging TimeApprox. 6 hours
(used the included 5A charger)
Fuse3 x 30A
Dimensions10.5 x 8.1 x 11.5" (26.7 x 20.6 x 29.2 cm)
Weight16.4 lbs (7.4 kg) Approx.